HAPPY BIRTHDAY DEAR GEORGE :)
C'est le Jour J !
C'est l'anniversaire de notre artiste favori et à cette occasion je publie aujourdhui vos messages d'anniversaire pour George Michael .
Cette année encore, de magnifiques mots, du respect, de l'amour et surtout le MANQUE ...
Je vous remercie tous et toutes pour votre participation , et pour vos messages de sympathie :)
Bonne lecture !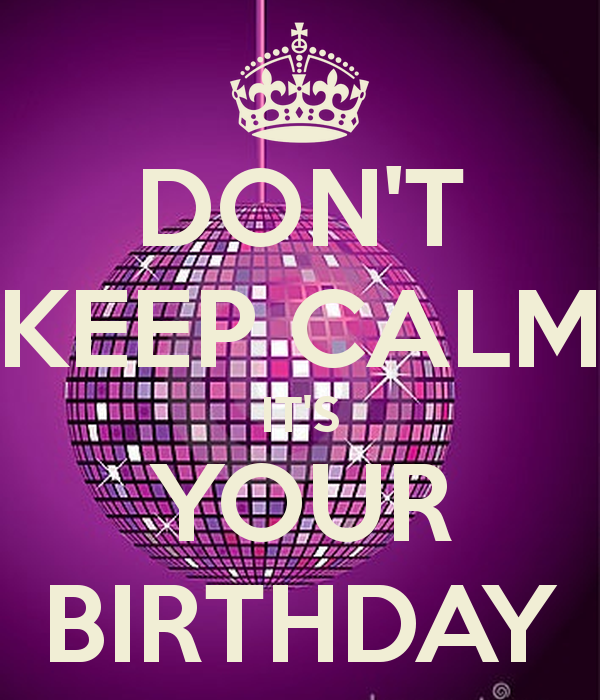 George,
That's a special day !
I wish you a magical and warm birthday , probably far from the public eye ... Please keep an eye on here as so much people are missing you and what you are : your unique voice, your amazing music, your great humor and your rare tweets :)
Sending much love and please give us a sign :)
xx

Ur such a great performer and so greatly missed, please come back! I wish u the greatest birthday ever! U r more than ever luved!
U have style, moves, grooves, and also respected by the people!
Il nous manque tout court ,tout simplement.il nous manque tant au niveau de ses chansons ,son style d'écriture, son charisme et de sa personnalité.
A bientôt et merci pour les news.
Dear George, Dear Friend,
It's your Birthday and you're still just as beautiful, genuine and kind as the day I met you. For me it was in ... OMG it was in 1984! I wish you a Happy Birthday with gratitude. What a Wonderful & Awesome Career!
Yes, Dear Friend, we're sooo grateful: You gave us the Best Years of Your Life, You always played the game, You were so generous and most of the time You forgot the meaning of Freedom. We all had/still have so much fun & enjoyed/still enjoy your music, your amazing voice...
WE SIMPLY LOVE YOU GEORGE.
Thank you for being like You are. There was one thing we forgot: You're NOT JUST George Michael, You're George K. Panayiotou A REAL PERSON, that needs to live his own personal life.
You need some time JUST for You? That's Ok for us, but You can be sure about one thing: We are waiting for You & We'll still be right here for Your Comeback!
We really miss You so much, Dear George: Your Words, Your music, this Incredible Voice.
We hope You're well and You're planning (maybe soon) a Wonderful Comeback.
I can't spend a day without listening to You, You're always by my side, like a Best Friend does. You're a Real Sunshine, we are so Lucky we met You (If I could turn back in time, I wouldn't turn a different corner, LOL)
Sending You all My Love,
Sylvie, One the xxxx Millions of Lovely Hearts beating for You!
Cher George j ai passé ta chanson "freedom" à mes élèves et je leur ai dit que tu incarnais la liberté.
Ta voix me manque ,ton sourire me manque tes yeux me manquent ,ton rire me manque , tes chansons me manquent.... alors en ce jour spécial je veux me souvenir de toi , penser chaque seconde de cette journée à toi car tu es unique et irremplaçable.
Joyeux anniversaire!!! Sache que l'on ne t oublie pas et que l'on attend avec impatience ton retour. Love
Darling George, You have been with me in my heart for over 30 years.
Your beautiful gift of music has made me smile, cry, dream and most importantly heal.
"OLDER" was such an incredibly moving and healing CD for me. (I've gone through 5 cd's) It helped me to make life changes for the sake of my children & my sanity because "Life's to short".. And yes, time set me free.
You were with me the whole time and for that I will always be thankful. I know you were given to the world to bring so much happiness, strength, peace, hope and most importantly LOVE.
You are a treasure, a healer, a friend, and a blessing.
Happy, Happy, Happy Birthday my darling Georgios.
May God continue bless you with health, happiness, laughter, peace and LOVE ♥ I love you so much, Bren Villanueva.

Dear Georgios @GeorgeMichael
My heart hasn't beat another rhythm since I know you and I'm thinking of you often.
Even at days during my work or other things I do. I hope you enjoy life out of the spotlight.
Take care Georgie!
And a Happy 53 in Love, Happiness and Good Health!
That's what I like to wish you.
Love as always,
George, je te dois tellement tellement de jolis moments.....
Older fera toujours partie de ma vie et même lorsque je serai une très vieille dame, je danserai encore et encore sur ta musique.
Longue vie à Toi et Merci
George me manque d'abord parce qu'il fait partie de ma vie ,et comme un ami dont je n'aurais plus de nouvelles depuis longtemps, je me languis, je m'inquiete, je m'impatiente.....
Je lui souhaite un merveilleux anniversaire et le remercie du fond du coeur d'avoir bien voulu il y a presque 6 ans, le 16 juin 2010 m'accorder 5 minutes inoubliables et une bien jolie photo de lui et moi.
BIEN BEL ANNIVERSAIRE A CE TRES GRAND MONSIEUR
Hi George
Happy Birthday and wish you a great day with your family and friends!
I miss you so much sweet man!!!
Your music is so important for me and helped me alot in my personal life and lets be honest here: Twitter is wayyyyy to quiet without you!
Love to see your tweets and I really hope to hear from you very soon ( Im not the only one I know).
nyway enjoy your special day and the wishes from all your lovelies you deserve that really!
Your Dutch lovely
Happy Birthday George
Please do not forget
There is no way to get happiness
The way is happiness
When the month of June arrives, many fans of George Michael think: "it is good, it is the birthday month!" But often I think George may not think so.
It is not easy to fulfilling years, leaving youth behind, especially when it means another generation of people can listen to music that is not yours.
For an artist so many years of career as George Michael, is not easy to maintain a level of inspiration, when all your previous work has been so good, so much quality, having left part of your soul....
But for that we are their fans, to keep his music alive.
>>I miss George Michael, for his music. Not in vain his voice is the soundtrack of my life.
>>I miss George Michael for their versions of other songs. Unsurpassable!
>> I miss George Michael for that natural when he speaks and his splendid sense of humor (English).
>> I miss his interview and his music videos.
>> And finally I miss to George Michael that let us into their daily lives, in their world.... through twitter. It was a luxury to have your favorite artist just across the computer.
My message for George Michael is that we still admire as a singer and songwriter, and that I respect him as a person.
I want to thanks for your music and all these years of good company.
I hope seeing you soon, happy and splendid!
Love you George!
George, c'est tout qui nous manque chez toi.
Ta voix, ta créativité, ton humour, tes concerts et bien sûr tes nouvelles chansons.
REVIENS NOUS VITE ! TU NOUS MANQUES TROP !
Dear George,
Wishing you a very happy & peaceful birthday with all your loved ones! May there be cakes, good food, and wonderful memories made on your special day!
You have been truly missed for the past year while you have been away from the public eye. We miss your tweets, images and lovely music you create. I miss the electric spirit you bring to the world...
I think the world could use more generous, peaceful and sensitive souls like you.
You have an amazing light that shines from within. I miss seeing that light! I pray you are well, happy, creating more brilliant music and enjoying all that life has to offer you.
I hope we hear something from you soon, as well as see you! Know you are loved by so many of us Lovelies out here in the world!
Wishing you love, happiness, inspiration, creativity & excellent health in your new year!
Love,
Dear George, I can't believe you're going to be 53 this year!!
time surely flies for sure!, you were like 36 when I was born and of course I thought you were so handsome and so gorgeous back than! and even during Wham! era as well
but I wish you a happy birthday and hope you're well and healthy and happy and surrounded by the people you care about and love most of all.
P.S love you and miss you Ichiban. 💖
Why I miss our George:
I miss everything about that man: his smile, his voice, his humor, his lovely tweets... Hope he'll come back soon to us.
My birthday message :
George, I wanna wish you a perfect birthday surrounded by the people you love. Be happy and well darling.
Love you loads.
Wishing you a great 53rd Birthday, filled with much happiness, love, friends, and good health.
On this special day, you are an inspiration to so many.
Through all the good times and not so good times in your life, you have proved yourself to be a survivor. You give so much of yourself through your music. That music has helped so many people during the best and the worst times of their lives.
George you truly have been a very special and remarkable man.
Your accomplishments in your 53 years of life have been that of a true Star that shines on forever.
"Enjoy what you do" on this celebration,
HAPPY 53RD BIRTHDAY GEORGE!
We miss hearing from you on Twitter.
Your fans are always thinking of you.
Lots of Love For You
Ladies and Gentlemen, Cowboys and Angels, Lovelies (you won't understand it from the Outside, it's a Freee(a)k! thing), this is my special birthday wish for the Amazing George Michael.
Fan for more than Twenty Five years we grew Older together.
Even if it wasn't always An Easier Affair for you and your Lovelies, we never lost True Faith or Patience and did Listen without Prejudice. Definitely
you're Somebody to love – maybe Fastlove – but no worries, I don't want your Sex ;-).
We all are Waiting for that Day, that you give it One more Try and Heal the Pain of your Lovelies.
Would be really Too Funky having new music Round Here soon.
So Happy Birthday to you George, celebrate this day with the ones you love and take care!
​Dear George,
2016. 06. 25. :)
I wish you a very happy birthday..
as Mamma Mia..:) xxx​
GEORGE,
We miss you, your voice is so amazing and pure , how can you stop the music??
When i hear a new song from you , it's like a massive exciting health i am..
Please come back very soon, i can't wait more, it's so sad for us !!
i hope you are feeling good. Believe that you have chance than others people or kids ills or without family. Believe you are not alone who have sad conditions, if you want , you can change...
Pray , pray Virgin Mary for help, believe me...
God Bless You and Happy birthday.
Love

Happy Birthday George, we miss our silent Singing Greek!
We miss you're gorgeous smile, you're beautiful voice, music and humour.
They say that absence makes the heart grow fonder...that is true. And when life is difficult just listening to you're music and remembering special moments makes my day brighter.
You are missed so much by you're lovelies and treasured always.
I hope you have a wonderful day and are well and happy.
Lots of Love, Catherine Ward, Durham, England xxx
Well I miss our man for a thousand reasons but I already tried to expres it in only a few words in one of my last tweets to him...
I so much miss Mr. George Michael's clear,honest view on things and his fenomenal ability to transfer his feelings,deepest thoughts or reflections.
He's a true master of sensitivity!
That wonderful time together with him about 4 and almost 5 years ago when he was so much present in our LiVeS firstly with the MaGiCaL SymphonicaTour of course but secondly also with his funny twitterinterventions is simply unforgettable....it made us feel SO close to him!
Although I truly understand that George needed&obviously still needs some time for himself I just miss him and his music to bits...
So incredibly happy though with all the marveLous music he already gave and shared with us...it's a wonderful gift!
I'm sure that one day he will be ready to share his gift again with his LoyaLies!Waiting for that day with patience but also unmeasurable desire!
Whenever he decides to come back we'll welcome&virtually embrace him with all our might,I'm sure!
The❤️between George and his LoVeLies is unconditionnally as it should be!!💝💖💝
I wish our sweet and SouLfuL man,George Michael a most HapPy 53rd BirThDaY from the bottom of my💓!
💞💞&💋💋from Nicole,one of his Belgian Loyal LoVeLies!

My sweet love and amazing George
I miss you like crazy and hope to see you soon
Your voice and music are my oxygen
I also want to wish you a very happy and healthy birthday my Love
Have a day full of presents, joy and lots of love
xx HAPPY BIRTHDAY TO YOU MR. GEORGE MICHAEL xx

when i was a child i was unhappy, afraid, couldn't speak to nobody, suddenly I heard George music and saw this man for the first time, was like God hands, he gave me hope, strength . I start to love myself and believe that in the world still have good person with great power to change our life. Some person are so beautiful inside that transmit it through them music, voice...... I am blessed to be his fan and wish him the best. he is my life Thank you George ♥
Happy birthday George Michael!!! ♥ ♥♥
What will be the world without a special person like you, Thanks to your parents that made this miracle come true, you are the sun, water, air and without you I can,t live.
I wish you that 25 of June be a great day and you have joy in everything in life near the one,s you love the most. I hope that your dreams come true, love you GM. You are amazing........ ♥ ♥♥

"What's coming and what's left behind isn't nothing compared with what's inside of us, and when we bring what's inside to out, a miracle happens."
Henry davis thoreau

Happy birthday to the man who has been my hero since I was 10 years old
(I'm 43 now) !!!
Have a fantastic day and please bring out some new music. You are a very much missed music legend!!! ❤️
Happy happy Birthday Mr G, I hope you are surrounded by family and friends on your special day, your music has seen me through so many dark times in my life and brought me out the other side whole again.
May you be blessed with many more.
So much love from me to you, your biggest South African fan xxx

Well I wish George the happiest of birthdays.
He is an inspiration and beautiful soul.
He is one of the greats.
Father figure makes people who don't have a father figure, like myself, feel like someone cares.
I want to thank him for everything he does and will do.
It is my dream to meet him.
I absolutely love him so much. 💙 He is a wonderful person.
And I hope with all my heart that I can meet him some day.
Wishing you all the best.
Hugs
Happy Birthday George!


Another year already!
Where does the time go?
Missing you more than ever these days, though am hoping at same time that you are enjoying your time away.
Would love to think that you still visit us on Twitter from time to time, and our obsessive tweets make you smile or chuckle at least.
Have the best day lovely & take great care of yourself, you are very precious to us all ♥
Lots of love always

Happy Birthday have and glorious day be blessed and many more to come.

George,
I hope you'll read these few words...
Even if it's not easy to put into words my feelings (I don't have your talent), be sure that I miss you every single day.
So, please take care of yourself and come back to us soon, thus we could keep walking on a long and beautiful road together.
Oh, I almost forget (joke), from the bottom of my heart, I offer you my most sincere wishes for a very happy and joyful birthday.
May all your dreams come true!
Love from Paris.

Dear George i wish you a happy birthday.
We miss your music come back soon with some new songs!?
Have a nice day and enjoy all your birthdays wishes
Happy birthday dear George!
I hope you have a wonderful day so far. Wish you happiness, joy and above all health and everything your heart desires.
You've brought magic into my life.
I miss you and your smile every day. I love you so much! Kiss you xx
Your Lovely



Bonjour George ,
Fan depuis tes début ainsi que ma femme je vais moi aussi avoir 53 ans en septembre
J'attend ton retour en concert le plus rapidement possible
Reviens vite
biz

Happy Birthday Georgie Porgie, long time no see
No worries, we all need headspace just "to be"
Please accept my wish, only Good Turns now transcend
Life's Handle of my Hurdy Gurdy Man.