Cassandra "One of my best day ever"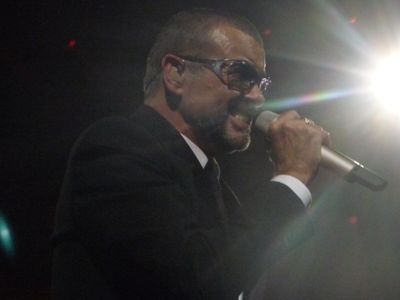 The Symphonica-Show on Sept 4th in Vienna was the first concert ever for me seeing my favourite singer George Michael finally live on stage.
You can imagine how excited I was... and it was overwhelming!
But lets start from the beginning: first of all it was such an honor (a pleasure) to meet some members of the George Michael Forums in flesh. They all were so lovely people – well, there´s a reason why George Michael calls his Fans "lovelies"...
The City Hall was big, the stage was covered in red curtain and so were the seats.
People were coming into the Hall from every side. Next to me there was a guy who started talking with me about George Michael and he couldn´t believe that I knew so many facts he didn´t know. To be honest: Would I be a big fan if I wouldn´t know his birthday or the year when his solo-career started? He also couldn´t believe that I recognised George´s father from far away.
Come on...
The audience was clapping after every single song before the show began.
At 8.26pm the lights went out, the stage glittered and the sound started. There was a big shadow behind the curtain – it was George himself standing on stage, still covered with the red sparkling curtain and began singing "Through", one of his most soulful songs. His voice was incredibly clear and at the end of his song I had tears in my eyes. The curtain opened and I was so thankful just seeing him live on stage and listening to his gorgeous voice. The next songs were as emotional as the first one.
After one hour there was a little break and I went down to ask for an autograph of Jack Panayiotou. He was so kind taking pictures with some lovelies and giving me my third autograph from the George Michael Team. As it is so hard to get George´s autograph, at least I have one of his father! I`ve bought an autograph book for my "George Michael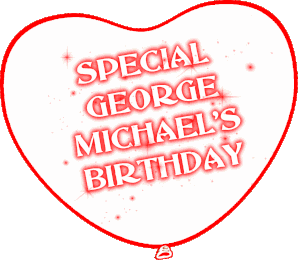 Experience" and guess who were the first who signed in there? It were Shirley and Lucy, the two GM-Background-Singers whom I met one day before the show. They were so sweet and charming and talked to my friend and me during their break from rehearsals.
During the break there was a big digital clock projected on the red curtain. It was counting backwards. I got back to my seat again and waited for the second half of the show. My heartbeat was constantly on a high level. Then the lights went out once again and he started to sing "Waiting For That Day". Such a lovely voice. And again tears in my eyes. Then I saw a lot of people goint to the front. After the first song I stood up and went to the front too just as he began singing "Patience". Unfortunately the security pushed us back to the mixing-table. And there we stood watching the stage from behind.
After "Russian Roulette" the first tones of "Praying For Time" were played and everybody stormed to the front – me too! And I was so glad standing in the first row and watching him so big in front of me. Everybody could see his joy when he saw how many people were standing in front of the stage. I think he is much more comfortable when his fans are in front of the stage. After "Praying For Time" he mentioned the doctors, thanked them for what they did and played "Feeling Good". Another moment with tears in my eyes.
After that, he went down from the stage and everybody was screaming for an encore. It was bloody loud! After a few minutes he came back on stage and performed a wonderful medley of "Amazing", "I´m Your Man" and "Freedom `90". His Background-Singers came to front of the stage as well and waved to the audience. It really was Amazing. The last encore was "White Light". One more time he thanked the doctors who saved his life just 10 months before and one could really say that it was such an emotional show for him playing for his lifesavers.
After "White Light" the final intro came and the lights went on. That was the unmistakeble sign for the end of this gorgeous first Symphonica-Show in Vienna.
It was one of my best days ever!
THANK YOU GEORGE!!!