Charlie "Something divine happens"

Dear Frederique,
Thank you, thank you for this and everything you do! Because of you we are all able to communicate with George!!
Your work is appreciated every day! XX
Here we go: 20 lines, as carefully chosen words as possible while not letting spontaneity escape.
Two favorite pics: First, George performing, LA June 25th, 2008.
I was panicked bc LA traffic made me late, this was my first show! I wld have run on top of cars if I had to!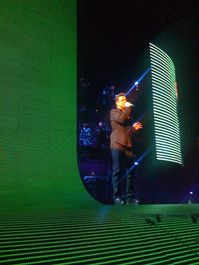 At least I had
front row
! Audience all seemed to be one person, the atmosphere at the forum was something I never experienced before in a crowd.
I think our love for him is just thick, it fills the air, like an invisible layer. The fans did not create that, he did.
He exudes and embodies so much at once that something divine happens. This is why he has such a large long term fan base, that will never change.
Like it or not, he mated for life in that sense :)
Did I ever think even at 13, that he was a pop star, no I never did. I thought musical genius with a mind that may leave scientists questioning themselves.

Splendid

!
And yes surprising things have happened along the way, yes indeed. I certainly hope he has no regrets. We never became fans bc we had certain expectations, simply we had to be there, we wanted to be there, the music did that.
All the virgin lusting female teens, evolved into solicitous kin figures. Some evolved :) some young & old still lusting! None of us EVER took the press seriously in regards to George, yet we still took it personally.
Press never meant anything. And alas, with Twitter, finally a wormhole :)
George not only created music that we fell in love with, also a world community of likeminded people who connect.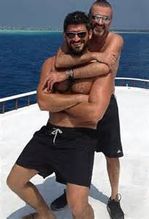 Second pic w Fadi, relaxed, happy, love, the things we wish for him. My selfish needs for his music in my life are secondary to all that. Bc we feel so strongly about him, when it mattered...really mattered, our prayers were answered.

Happiest Birthday dear one! xo charlie

``
Word to describe George: ``
Celestial
``
....not to overdo it ;))