Cristina "A Very Special Day"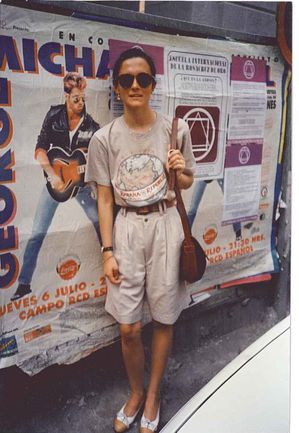 Hello Frédérique,
Congratulations on your initiative, your imagination and for always being there generating pleasant situations around George Michael.
I send you a photo which to me means a lot and to which I have much affection.
It is I, in 1989, on the street next to a poster presentation of the Faith tour in Barcelona.
I went to that concert with the person who later became my husband, though he is not now because he died.
It was a very special day, I remember a George Michael full of energy as always

delighted us, and I wanted to share with you.
George is a big part of the soundtrack of my life. I admire his ability to write song lyrics and musical arrangements (works perfect), his wonderful voice that carries both, is a ballad, is funky ...
And above all his honesty, which sometimes brought him trouble, but he kept his way of being and living, like it or not. I respect him and always will wish him the best.
My adjective:

MUSICAL INTELLIGENCE