Kelly "George phoned me ! "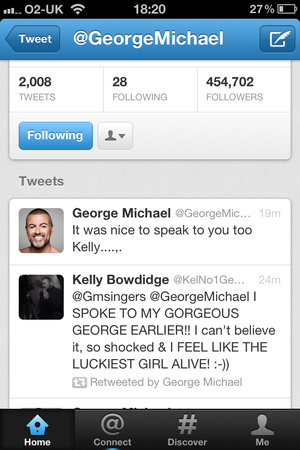 Ok, favourite George memory:
When George phoned me at work on 17th July 2012.
I was lucky enough to win a competition on Heart radio where George phoned and spoke to me at work live on the radio and gave me tickets to his Symphonica show on 17th October 2012. I couldn't believe my luck, I sobbed down the phone to him so much I could barely breath let alone speak to him! All I remember was screaming down the phone to him saying 'George Michael has just said my name!!' It was the most amazing feeling! I really couldn't believe that I was talking to my idol on the phone, I was in complete shock and I was on such a high for months afterwards! Later that day I tweeted him saying: 'I SPOKE TO MY GORGEOUS GEORGE EARLIER!! I can't believe it, so shocked and I FEEL LIKE THE LUCKIEST GIRL ALIVE! ;-)'
I really couldn't believe it when he re-tweeted my tweet and replied with: 'It was nice to speak to you too Kelly……' (I've attached a photo of the tweet!)
That day was like a dream, I truly felt like the luckiest girl alive!
HAPPY 50TH BIRTHDAY GEORGE! Have a wonderful day, I hope you get very spoilt, sending all of my love and BIG kisses on your special day! Love you lots and lots!
Kelly
XXX