Marie "The Lovelies Corner"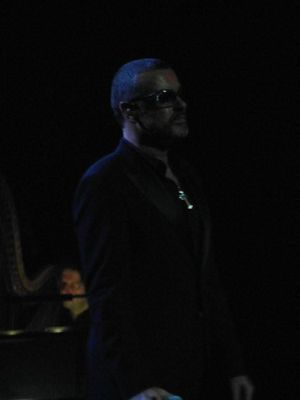 As well as a very Happy Birthday to his Nibs, my memory is more a very huge thankyou to all the Twitterlive concert Lovelies who tweeted during the Symphonica Tour and especially those who tweeted me on the first night of Dublin at the O2.
It meant at lot to me for a couple of reasons.
After sharing so many Symphonica Concerts online with thoughtful, tweetful Lovelies, It was now my turn and I was determined to repay their kindness with my wee non "smart" phone, texting my tweets to Fred @GeorgeMichaelNews & Anne @GeorgeMichaelNL, only getting texts from them in reply, not receiving tweets.
His Nibs was magnificent as per usual and hearing Song To A Siren live, blew me away. There was plenty of GM craic with the fans and I even got one of his "Glares" over his glasses as I, ahem, demurely "danced" in the aisle near the end.
You know the ones he gives when caught unawares….I know that eejit, who is she?...
Well probably less polite words than that but you know what I mean!
After a brilliant concert I went back to a very dark side street of the O2, a flat tyre and 4 dicy looking characters, circulating like vultures in black car. After a lengthy anxious wait and one failed attempt of theirs to get me out of my car, my breakdown service arrived and I was soon singing my heart out with His Nibs to keep me company on my 2 hour car journey home. I got in at 4am, still a bit shaken from those "vultures" on the prowl in Dublin so I tried some twitter relief on my PC before I went to bed.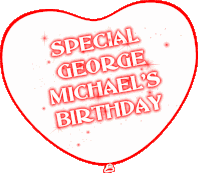 To my complete disbelief, there on my timeline was a beautiful array of Lovelies who had tweeted me throughout the concert but I didn't know. I was touched by the kindness of their replies, their appreciation and encouragement to keep on tweeting to them as the concert progressed. After the scare I got earlier, this melted my isolation and made me feel part of something positive, caring and giving. I went to bed on a high of a shared connection with some truly "Lovely" people and a wonderful concert of pure excellence.
Thank you Your Royal Nibness and thank you for your very lovely Lovelies.
The Lovelies Corner
Georgie Porgie Pudding and Pie
Wouldn't kiss the girls and made them cry
Avoid dark corners where negativity grows
In security and love, each Inner Child's needs to play
Friendship's bonds keep Demons & Sirens at bay.

To your tune, we will skip, dance & sing
Promise to play nice and mend all broken wings
Frozen out is Hurtful Spite & jealous sneers
Flourish in this inner circle of light, safe harbour to souls wronged
In such sanctuary, fill our hearts with Summer's song.