HAPPY BIRTHDAY DEAR GEORGE !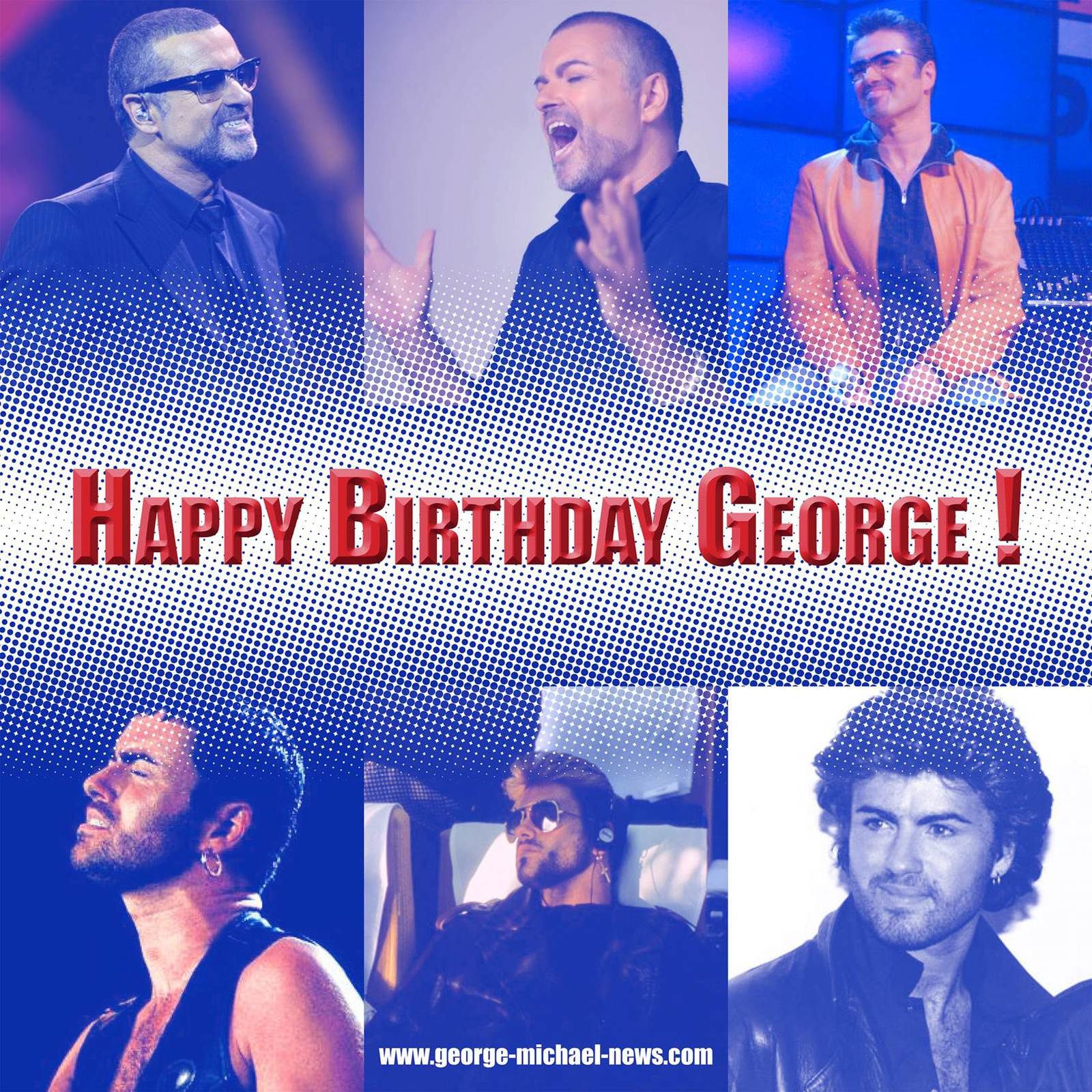 CLAUDIA * THE ONLY ARTIST IN THE WORLD WHO TOUCHED MY HEART AND SOUL *
Mind though... I think its very hard to choose my favourite lyric as they're all good really. George is the only artist in the world who touched my heart and soul with such beautifully written lyrics.
Hi dear George! I'd like to wish you a happy 51st birthday. Enjoy your special day to the fulllest.
For (one of) my favourite songs I'd choose Heal The Pain. I think its hard to choose my favourite song of yours but I need to pick just one.
Mind you, George.... that you're the only singer in the world who has touched my heart and soul!!! Bless you Emoji I will always love you!
"Let me tell you a secret, put it in your heart and keep it Something that I want you to know Do something for me, listen to my simple story And maybe we'll have someting to show " Much love! Take care and a big hug from your Dutch lovely Claudia
Æ Claudia Georgios Æ "To the world you may be one person.. but to one person you may be her world!!! ― George Michael"
MAGDALENA
Hope you have a FANTASTIC birthday George 🎂🎈🎁💐
Cowboys and angels
They all take a shine to you
Why should I imagine
That I was designed for you?
SUSAN
George, Happy Birthday!
I hope this year brings you peace, health and happiness.
The words I attribute to you the most often are,
"I guess if I'm being totally honest......."
Susan Hagler, USA
FIONA * I NOW LIVE AND BREATHE YOUR MUSIC EVERY DAY *
My Dearest George,
What words can I say to the greatest musician in the world. What words can I write to the man who has penned my life within his music. It is an indescribable task, unlimited, and to most who do not understand, unbelievable.
George, you are far greater than an amazing talent. You are more than gifted with musicality, if there is such a gift. You are musical perfection, every single note, phrase, song, performance, arrangement. George you are brilliance, I know no other. No other is comparable.
George, your music is one of the most significant parts of my life. Your music somehow found me, and this I know. I bought a cassette tape of your music years ago, I played it non-stop. From that moment on, I have lived a life of discovering and being emerged in the music of George Michael. I now live and breathe your music every day. Your music and lyrics are embedded in my heart and soul. They always will be, just as you are.
George, for your birthday, I wish you love and happiness. May all your dreams come true. This is your day George: you've been a giver all your life, please accept your birthday wishes from everyone who loves you, and be proud of your achievements both professionally and personally. Most importantly, please be happy. You are a precious treasure.
George, you are so loved.
Always,
Fiona.
'If you'll be the desert, I'll be the sea, If you ever hunger, hunger for me, Whatever you ask for, that's what I'll be'. 'And what we have to learn, we rarely choose'. 'And they may strip me of the things that I've worked for, But I've had my say'. 'Take care my love, she said, Don't think that God is dead, Take care my love, she said, You have been loved'. 'Sometimes the river calls me, And at night it calls my name'. 'Do you think we have time? Do you?' 'How come'?
DEBB * YOU ARE VERY LOVED *
George, wishing you one of the Best Birthday's Ever!
The age 51 means you are wiser, experienced, more handsome, gracious and very loved.
My fav lyrics would have to be. "Looking out for angels just trying to find some peace."
Enjoy your special day. Sending you a big hug. fansincewham
ROSELLA
George I hope you have a very Happy Birthday with all your family and friends.
Take care of yourself and never forget how much we all love you.
ILSE * TOMORROW IS YOURS *
A very happy birthday to you George!
Wish you only good things in life... Good health, happiness... All the things your beautiful heart desires. Make this day a special one... And remember always... TOMORROW IS YOURS! Much love and loads of birthday kisses. Ilse (Belgium)
Soooo many great lyrics our George has written but if I have to choose 1 it would be this one...
From Easier Affair Don't let them tell you who you are is not enough Don't let them tell you that it's wrong Or that you won't find love Don't let them use my life to put your future down Don't let them tell you that happiness can't be found
I think we all had times in our lives where people tell us who to be or what to do... Live your life as you want to no matter what people are saying.. Such a strong message for us all... "See I don't have time for the haters"
Thank you George for soooo many powerful lyrics you've written! Ilse (Belgium)
JAN * IN MY HEART FOREVER *
Dear George the Words I choose out of so many are the Words that fit best with my life.
As they were then, they are stil. Everytime I hear them I get moved again. There a part of my favourite era ''OLDER''. For me it's your best album and best song.
The Words that keep me moving are: I should have known, it seemed to easy. You were there, And I was breathing blue. Strange, don't you think I'm looking Older? But something good has happened to me. Change isa stranger, you have yet to known.
Also I wish you a great birthday.
In my heart forever.
CATHERINE * THE WORLD TO US *
Happy Birthday George, you are a wonderful man and mean the world to us!
Hope you have a wonderful day filled with happiness, celebration and joy, surrounded by the people you love.
It's been really hard choosing a favourite unforgettable lyric as there have been so many beautiful ones over the years. But I have chosen 'You Have Been Loved' to let you know you are loved and always will be "you brushed my eyes with angels wings, full of love, the kind that makes devils cry".
Please take care of yourself sweet man, Lots of Love and birthday hugs, miss you xxxxoxo. Catherine Ward, Durham, England.
MARYLIN * ROUND HERE *
So come with me, ya ya, Ill show you where I've lived,
I wanna put my hands in the sun again.
CHARLIE * LOVE AT FIRST LISTEN *
Dear George, It was love at first listen. That distinct voice, the depth and pure emotion coming through the TV and radio going straight through me, everything bad or good in my life at that moment seemed insignificant.
You can sing other peoples songs, they become yours, reborn, but nobody can remake your songs. It amazes me that it is not possible! Do you put a little spell on your songs :)
There is always so much I could say about you. I love you so much! You are like family to me. I would love to meet you. More importantly, I have huge understanding and respect for your privacy because I can see it is what makes you most comfortable. So although I might never meet you, perhaps my words can have some small meaning.
Beyond excited for new music, possibly even more shows, you were certainly very loved that last time around during the US tour. Hollywood Bowl please! It's such a beautiful venue and perfect for your voice. Lastly, while I love all the songs, if I needed to pick the ones that I feel so very close to:
"Blue" "The Strangest Thing" "Outside" "December Song" "White Light"
Happy Birthday! Hope you continue to stay true to yourself, your wishes, your hopes and your dreams. Yet continue to challenge yourself musically. If you love the songs and nurture them then we will love them as well.
All my love to your family, wish for them as well as you health and happiness. Charlie
BRIGIE * PROUD TO BE A LOVELIE *
It was so hard to choose my favourite lyrics, as all of George's songs come from the heart & always strike a chord in mine. Remembering how we all felt at the time & the relief when we knew he was going to be OK, I would have to choose the following:
"Was it music? Was it science that saved me? Or the way that you prayed and prayed for me. Well I thank you I'm alive"
Believe me George, I thank God every day for this!
Dear George Thank you for everything you have given us over the years. I know, at times it must have been tempting to just walk away from it all, but I am so happy that you haven't felt the need to do that. Your music and your wellbeing brings us unbelievable joy, which I hope you can feel ♥ We are so lucky to have you, and I am so pleased that with Symphonica, the World got to see that too! I will always be proud to be a Lovelie, and you will always have my love, respect and loyalty ♥ As always I wish you much love, laughter, health and happiness.
Happy 51st Birthday George!
Have a fantastic day with all those you hold dear. Lots of love always Brigie Xxxxx @PazzaperGeorge.
CRISTINA * IN LOVE WITH THE MUSIC AND THE VOICE OF GEORGE MICHAEL *
They say the word fan comes from "fanatic." I do not consider myself a fanatic, but a person in love with the music and the voice of George Michael. If we add that George Michael is a person what endears, the combination of the two is perfect.
I consider a person's values ​​(few maintain friendships from childhood).Being an icon of world pop music shows his humility and respect remixing songs from other singers recognizing that music from other artists liked to the point of "bring them your soul."
George Michael and his music have accompanied me throughout my life, in good times and bad. Thus, I all I do is returning admiration and gratitude.
His voice has changed, now is much deeper, without having asked power, emotion and soul. ¿What to say of his "charm"? I hope I can continue to enjoy your music and company for much longer, and to seeing you soon for the third time on stage.
George: We need you here, life would be very sad and gray without your music.
My favorite song is the beautiful ONE MORE TRY
Happy Birthday George! CRISTINA MORCILLO tinapreciousbox
MIRIAM
Happy Birthday to a handsome gentleman like you, blessed with good looks and a fine voice. From your biggest fan. Miriam Millin.
KENNETH * OVERWHELMED *
From the bottom of my heart...
Happy birthday and all the best wishes to my all time favorite singer/songwriter George Michael :) The joy your music brings me are overwhelming..
Thx, and take care :) Kenneth from Denmark
NU * YOU ARE A "MUST" OF THIS PLANET *
Hi, sweet girl, thank you for your blog and the lovely gift you are giving to us with this opportunity for reaching his eyes through your work. It's very difficult for me to choose... but circumstances decide:
"Take care my love, she said Don't think that God is dead Take care my love, she said You have been loved If I was weak Forgive me But I was terrified You brushed my eyes with angels wings, full of love The kind that makes devils cry So these days my life has changed And I'll be fine, and I'll be fine".
Hi, Mister, Master,... Definitely genius of Music and good taste. Here we are one more year but this is always the most important. You know how PROUD we are of you, prouder than Ever, (not maybe: This is a certainty) in love with your work as always, and always Waiting for That Day in which you (now yes: Maybe, haha) send to us a few words through Twitter. You Are a 'Must' of this planet: thank you for Give and Share so much talent "20years & a day" later.
I wish you in this BirthDay all the happiness you give to the world who love you.
DEBBIE * A SPECIAL MAN *
Happy Birthday George Michael, I wanted to wish you a Happy Birthday to you on your special day so I could add to I am sure the many well wishes from us all.
You are a special man who has been willing to be creative, loving, sharing and no matter what life has given, no matter the hardship endured chose to live another day with us all.
We are all grateful to share this earth with you. Love, Debbie Freeman
SUSANA * MARVELLOUS MAN *
Can't choose my favourite George's words.. It would be nerverending...
Dear George: We've been, we are and we'll be forever supporting you and loving you no matter what happend or what will happen..we'll always be here.
Forgive us if sometimes we look like crazy lovelies! Ha ha.We can't help it! ha ha. Seriously... thanks for all this amazing music you give us and for all your stunning work during all this years. Never will find words to thank you and to tell you what you mean for us. Hope one day I can tell you ( although I think you already know it !)
Just wishing you all the happiness,luck and health in the world with all my heart. You deserve it Yog. Take care and you never change...you're a marvellous man.
Happy 51st Birthday George. ♡ XXX Bless you @sugm1974
TANIA * SO PROUD *
I will be the one who loves you till the end of time...;-)
❤️ HAPPY BIRTHDAY 🎉🎉🎉🎉🎉🎉😊😊😊😊😊BON ANNIVERSAIRE MON GEORGE D'AMOUR❤️ I Wish you a FANTASTIC BIRTHDAY 🌹🌹🌹🌹🌹🌹 I WISH YOU HAPPINESS&JOY&LAUGH&SMILES FOREVER❤️ YOU ARE THE BEST SINGER IN THE WORLD AND YOUR VOICE IS PURE HAPPINESS🌈🌈🌈🌈 ALL THE MAGICAL NIGHT WITH YOU DURING ALL THE SYMPHONICA AT PARIS ARE IN MY HEART FOREVER&EVER❤️ AND THIS NIGHT AT OPERA DE PARIS ...😉 WAS EXCEPTIONAL , WAS THE MOST BEAUTIFUL NIGHT OF MY LIFE❤️ I LOVE YOU AND I WISH YOU ONLY FULL OF HAPINESS & JOY FOR YOU IN YOUR LIFE. YOU ARE A VERY MAGNIFICENT PERSON WITH A SO BEAUTIFUL HEART❤️I'M SO PROUD EVERY DAY TO HAVING GREW UP WITH YOU❤️ I WISH TO SEE YOU HAPPIEST BECAUSE YOU DESERVE IT SO MUCH ! THANK YOU FOR HAVING PUT SO MUCH LOVE & HAPPINESS IN MY LIFE😉
❤️ HAPPY BIRTHDAY, BON ANNIVERSAIRE🎁🎉🎉🎉🎉🎉🎂😊😊😊😊 🍸🍸🍸🍸🍸🍸🍸CHEEEEEEEEERS!🎉 HAVE MUCH FUN & ENJOY😊😊😊😊 THANK YOU FOR YOUR HUGE KINDNESSS AND ALL YOU DO FOR MAKING ME HAPPY...😉 I LOVE YOU MON GEORGE❤️FOREVER!💋💋💋💋💋💋💋💋💋💋💋💋💋💋💋💋💋💋💋💋💋💋💋💋💋💋💋💋💋💋💋💋💋💋💋💋💋💋💋💋💋💋💋💋💋💋💋💋💋💋💋51 BIGGEST KISS💖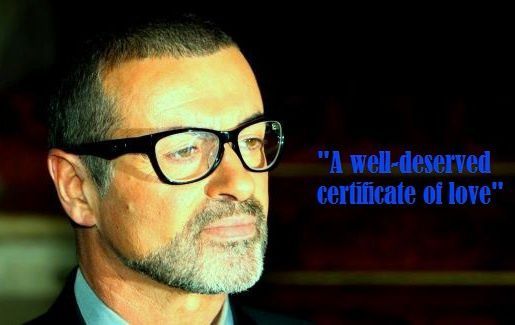 MAHA * A WELL DESERVED CERTIFICATE OF LOVE *
Today is a very special Birthday of a very special person.
I met him years ago through his Music so I've decided to praise what he does for us. I always thought that words are so insignificant in comparison to what George Michael creates, so I dare not write a word about it. But now I feel that no matter how tiny and clumsy this effort is but the amount of love involved is more than enough to tell him that he is very special.
But as I try to do so all the adjectives seem so week, impure and worldly. I find his creations very close to nature and feelings. I met his voice for the first time through his song Last Christmas; at that time I didn't know about any George Michael. All I could hear was a beautiful voice and its whispering echo in the high mountains, telling me to fall in love with it. But this voice left me disturbed and in search of finding who he is and the search never ended.
I'm still discovering Georgios. WHAM! emerged in our lives like a bright Sun. I saw it rising from the horizon very fast . WHAM! to me never ended nor even faded, it still exists and it will remain here as long as we are here. Its pure fragrance of adolescence is still fresh and with it I can easily forgive, forget, smile and move on. There were days when we just danced to its tunes like crazies but WHAM! is now my "Morning Sun" and I don't need any other drug to overcome my fears. It's like rain pouring on desert, washing all the dirty sorrows off my soul. The young Georgios smiles at me and I can't help but smile with him.
When he wrote Father figure I felt that he was too young to write those lyrics but then I saw the father figure in his kindest smiles. And, now I see the father figure in him everywhere. Faith; it was his Kingdom, his reign; we loved it and enjoyed it the most. But now when I'm suffocated and want to fall in love I listen to his later slower ballads (older). It's the sound of drizzle making me wet very slowly and I soon discover my tears mixed with this water. The words uttered slowly are like soft whispers of the wind. I can feel the warmth of his breath. These ballads to me are the beautiful moments when the Sun is deciding whether or not to fade!
Symphonica is "The Night"; deep but not dark which takes my hand and floats with me down in the depths of the oceans and the world within me is drowned in it making me breathless. I can feel his presence. I won't say that it's a sad or cheering voice but it is a voice filled with deepest love, kindness and… thoughts. Yes, I hear thoughts and concerns in it. Being a musician he expects us to talk about his music and leave him aside which seems impossible to me because he puts so much of himself into it that I can't separate the two. For instance, the autobiographical lyrics and the sensitivity he creates in the way each word is delivered. These creations are not any less alive than you and me. His music, style, looks and voice keep changing with time, age and experience; but we, his lovers follow him everywhere he goes. We don't question these changes because we believe in him. And he never fails us. My favorite lyrics are Praying for time, A different corner, Waiting (Reprise), Father figure and Star people. His music has such a powerful ability to communicate that it makes me feel that I almost know him.
Happy Birthday George! I thank God that you exist and I wish you love, life, health and happiness.
Let Georgios smile in you forever. Truly Yours, Maha (GM's Prisoner)
MARIE * PLEASE SIR *
Please Sir, can George come out to play?
Please Sir, don't be mean, it is his Special Day!
We promise to play quiet, we promise to be good
We even promise to keep him in the neighbourhood.
All we want, is, to see that he's Okay
Make sure he's happy, getting a little better every day
We don't care however long it takes
We're just delighted he'll need many more Birthday cakes!
Tell him not to worry, tell him not to fuss,
No-ones perfect, take his time, just get back on the Bus!
We don't expect a Symphony or even new dance moves
But we'd be oh so grateful, for a new Funky Groove.
Please Sir, let him out, he's Leader of the Pack
My Mum said "Genius' s never lose their knack"
But we don't care if he fluffs a lyric or lets a verse hang
It's him we want, just "Our George", the bestest playmate in anyone's gang!
Happy Birthday from Meme X
NICOLE * ALL STRAIGHT FROM THE HEART *
Dear George,
Congratulations on your 51st birthday!I know,time flies....I even think(as I'm way over 50 too)things are even going faster than when we were young foals(a loooong time ago;)))Mmm... just don't let it get to you,after all,évery age or era has its own charm,it's really true!:-)) On this occasion I would like to thank you from the bottom of my heart for al the joy and happiness you gave me and all your Loyal LoveLies over the past years....Although,your LiFe(as so many LiVes are)has been a"long and winding road"and didn't always treat you as good as may have been expected...I'm sure that in the end it has been worthwhile because I felt there was always love and faith in that big sensitive heart of yours.As long as that's the case you are able to conquer everything!Your gift in music(and I like to call it your art)has been a big inspiration to so many people and I have a véry strong believe this will continue to be so for many years to come!I'm incredibly grateful you are still with us and I hope you and your magnificent versatile voice will stay there for the rest of MY LiFe at least(since we're contemporaries....thàt can't be thàt hard;))"As"for your gift in music you can rest your mind assure...that will stay forever..."ÀLwAyS!Music from&for the heart will go on without boundaries!
I always felt very clearly that the beautiful lyrics you wrote throughout your looooong carreer in showbusiness were all straight from the heart and very profound!I always loved your metaphorical way of writing very much too and one of the most touching sentences in this regard to me comes from IMO the most beautiful love song ever written"Jesus to a child"... Stating "with your last breath you saved my soul" to me is the ultimate way to declare your deep love to someone... It implies holding your love very close to you in your heart and soul and letting go the tangible terrestrial part at the same time... So hard but so intensely brave!In my eyes you are the only singer-songwriter who is able to capture this sort of profoundness and transfer it to your audience, a unique and Godgiven treasure of a talent!
Again, thanks for everything George...for being there,for your sharing ability implying great generosity... which returns in equal measure from your loyal fans,that just goes without saying. It's a mutual thing,you see!!:-)
George,I wish you and your loved Ones all the luck in the World for many many years to come.. You're in my heart and soul forever!❤️
Loving regards from Nicole,a thankful Belgian lovely.
GIUSEPPE * THE SOUNDTRACK OF OUR LIFE *
The lyrics that George has written through the years are the soundtrack of our life, his voice is familiar like the one of friend or a parent.
Today i want to remember one taken from the song The strangest thing Don't analyse, please just be there for me.
Those poetic words summarize, for me, what real love is: to be on the side of the person you care without explanation, discussion, especially in the hard times.
Happy Birthday George from @G_d_P_
VICTORIA * AN ODE TO GEORGE *
Happy 51 Birthday Dear George.
Been so many years I dreamed to write you a message, and my dream comes true on the eve of your birthday. My message to you is not just a congratulatory nature, but as part of an ode to you.
Usually think what to write and how to write, but I never as free in my thoughts to your person. Feeling that I know you all my life, and that I must say to you thank you for what I am now so happy.
When I fell in love with you? A month ago, years ago? How do I know you? Probably Even the galaxy has no So many light years.
Dear and beloved George, for all these years you have been and remains for me a man, that gives me any answers to my questions, able to make their songs so that through the winter comes summer, and around the world are beginning to blossom gardens. I want to thank your parents for having brought you so sensitive, gentle, wise man that causes people to live and grow. I can be a long list all your money, but it will take a very long time.
Your music. Dear George, listening to your music and songs, and knowing how much effort you spend on their record. I can only imagine what a paradise and apocalypse emotions going on inside of you. Fastlove alone what it means for me, I can listen to it for hours without stopping, because every word affects me like current on my nerves, and how-to begin to flow into the blood and flows to the heart. By the way, thank you for dancing in the shower it seemed like the cherry on the cake.
"George on his birthday!" Thank you that you are able to help open doors for us And then, as you know how we truly love, Thank you, who, believing Soul could give a particle in songs. Thank you for your thoughts that seeking upwards like birds. Thank you for your eyes that never tire of dreaming. One heart day and night about you faint, But this feeling helps me write.
I am thankful for the fact that she gave me a guiding star that leads me in my life. Sprocket - for what you gave me, is surrounded by many good people who have become my friends, and eventually I became like brothers and sisters.
From VictoriÆ (IAmAphroditeOz)
ANJA * TAKE CARE OF YOURSELF *
Happy Birthday!
Thank you so much for 30 years of just fantastic music.
It's such a gift, having you in my life since I was a this little obsessed 'Wake me up' girl.
Please take care of yourself!
Always yours,
Anja
Favorite song : Cowboys and Angels
KELLY * I THINK YOU'RE AMZING *
Happy Birthday to my gorgeous hero & idol George who is 51 today, I hope you have an amazing day spent with your loved ones & if you want me to pop round for champers & cake, just give me the nod! :-)
you are an absolute legend & I love you so much, I really hope you have a perfect day!
Thank you so much for everything you do & just for being you, you & your music make me so happy!

It's so hard to pick my favourite lyrics as I LOVE them all but I think it's got to be from 'Amazing' as the lyrics just describe our George perfectly:

So now I walk in the mid day sun, I never thought that my saviour would come, I think it's amazing - I THINK YOU'RE AMAZING! (GEORGE!)

Lots of love Kelly Bowdidge xx
KATHY * YOU ARE A GIFT *
May you Special Day bring you a celebration of happiness.
God bless you with a happy, healthy year! You are a gift that has come into my life.
And every day I get to hear the greatest gift of all.....your voice, your words, your music. "Happy Birthday" to you with lots of love and appreciation for all you have given us. Cheers!!
ELISA * THANK YOU GEORGE *
Dear George, with a great deal of admiration and the greatest respect of you, as a man, as a songwriter and singer, I wish you HAPPY BIRTHDAY!
We wish you all the best for your life, full of health and love.
As you said: take care of yourself! We love you!
We'll never say enough "Thank you George" for all the great moments full of your music in our every-day-life.
You are part of it and always will be.
Thank you, just to be "YOU"!
Elisa