EXCLUSIVE INTERVIEW * SHIRLEY LEWIS & LUCY JULES *
Shirley, Lucy,
First of all, thank you so much for giving me this exclusive interview for the blog, I really appreciate it, what a gift!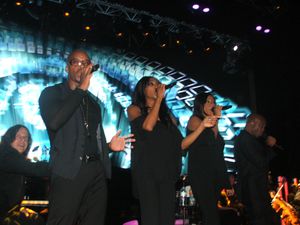 You the GM's Girls
Frédérique - Since how long do you work with George Michael?
I have worked with George for 25 years and I am still in ore of him.
Lucy - I've been with GM since 25LIVE. That started in 2006 so it's my 6 year anniversary in September!!

You worked with many great artists. Is it special or different working with George?
S- I guess for Me yes it is different , GM is family to me, also for the last 10 years I haven't worked for or with anyone else.
L - Because he's so special it makes it different, without taking anything away from anyone else. There's no one like him

F - With such beautiful voices, did you try a solo career?
S - I had a couple of singles out in the USA in the late 80's but to be honest I
really enjoy doing BV's more.
L - Thank You, that's a lovely thing to say!! As a singer you're always involved in lots of interesting projects. Be it solo, to a choir, or even voice over projects as a 5 year old boy!! With lots of different stuff in the middle! That's the way I like it! I'm very lucky indeed!!!!

F - What are your projects for 2012?
S - To continue on with the Symphonica tour and keep building my management /agent business in LA
L - Well definitely more GM. I've also got a couple of dance projects and a country music project that I've got to start! I'll keep you posted!!

Symphonica Orchestral Tour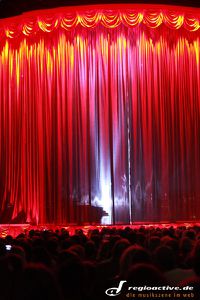 F - You know George since a long time, were you surprised when this new tour
was announced?
S - No because while we were doing the 25 live tour George had mentioned he
would like to do an orchestra tour
L - Not at all! Ecstatic! His voice does justice to any song he wraps his vocals around!

F - How do you get involved in the wonderful Symphonica Tour ?
S - GM just asked if I was available to do it.. I'm always available for him ;-)
L - Well for starters we have a warm up with GM before we go on stage which we absolutely love as it gives us a chance to give him a good old squeeze just before the show. We also share our thoughts about the prior evening's performance, and a tiny little gossip! Which obviously is very important!! Haha!!

F - What was your favorite venue in 2011 and why ?
S - Florence, it was just a wonderful magical time there for us.
L - That's easy! Arena Di Verona won the Best Venue Award! Absolutely breathtaking!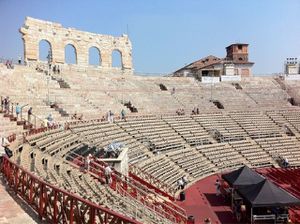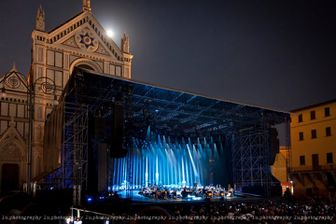 F - What is your favorite song of the 2011 Symphonica tour ?
S - Going to a Town and I remember you
L - Oooh! That's a toughie! I've got fave songs for different reasons! Errrm, I'm gonna go with Praying For Time for sheer pride! I have a vivid memory of him performing that song at the Royal Albert Hall in all it's epic glory, and the audience went absolutely mental!!! He was meant to sing that song, in that venue with an orchestra!!!

F - For the last shows, You did your now famous vocal warm up with George on stage, just before the final medley.How came this idea ?
S - George really wanted to show case us I think, as we don't get to do that
much during the show and I think he wants his audience to get to know us.
L - Well we've been doing that particular warm up since 25LIVE. In fact it was the Perri sisters who introduced us all to the wonderful gospel medley we sing. GM was looking for a little vocal piece we could do onstage. We had loads of suggestions and couldn't decide until Shirley suggested we do the very warm up! Made complete sense! Funny how sometimes you can't see something when it's right under your nose!! Haha!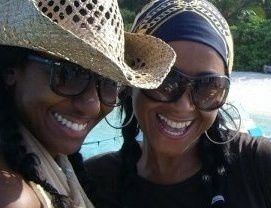 F - What are your best and your worst (If there is one) memory of the 2011
tour?
S - Best for sure were the nights we hung out with the boss after the shows and of course the worst was GM being in the hospital , Lucy and I must have
cried him a river.
L - Best bits, Shirley and I laughing our heads off at something every single day! We would wake up on the tour bus after very very little sleep, look at each other and burst out laughing! Everyday! The boys didn't get it!! The worst bit.....The Boss getting pneumonia. Enough said. Still can't believe it.

George Michael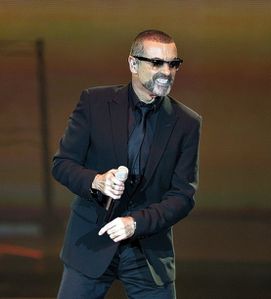 F - It was great to have you on Twitter during Symphonica 2011 and your love
for "the boss" was not hidden.Can you describe the man during the show and of course after ?
S - George is one of the most talented ,warm, intelligent men I have ever met
and I truly love him like a brother, I just love listening to his voice and
I always learn something from him both personally and professionally
L - It's been lovely chatting to fans during Symphonica. We absolutely love it! I've gotta learn more about it though! Shirley keeps showing me and I'm still rubbish!! He's the same guy before, during and after show. Painfully sincere and super funny!

F - I was on the first row in Nice and was so impressed by how much G put
into each song. As singers, what can you say about this ?
S - Only that he gives 120% every single show , he is just amazing!
L - One thing about GM is that he has such a unique understanding of music. He listens to every lyric and every nuance of a piece of music. That gives an emotional connection, and you can really tell that when he performs

F - Tell us something George does behind the red curtain that we dont know:)
S - Absolutely not ;-) lol
L - What do you know? Haha!!

F - A little game : 6 letters for G E O R G E : can you give one adjective
by letter to describe him?
S - Generous Engaging Observant Respectful Gorgeous Elegant
L - Gorgeous - because he is - Excellent - because he is - Original - because he is - Relaxed - well, we all know why! - Gay - because he is! ( Sorry ladies! We really did try!!!! ) Enigmatic - because he is!!!!!!!!

F - Is there something in particular you want to tell to the lovelies ?
S - Only that you all couldn't have chosen a better artist to be a fan of and
I'm glad to be in their club!
L - We LOVE you and we NEED you there!!! GM needs you there!!! We know that the love that you special ones sent to him during his illness made a magical difference!! That kind of energy is incredible! See you all for Symphonica Part @ !!!!!!