EXCLUSIVE INTERVIEW * LINDSAY FROM GM.COM *
Thank you Lindsay for your kindness and for giving me this exclusive interview.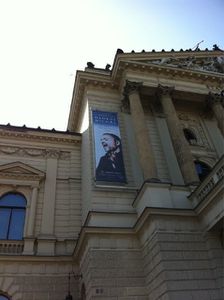 Frédérique - Were you a fan of George Michael before working for him ? if not are you now ?
Lindsay - While I was quite familiar with George's music before this tour, I wouldn't say I was a fan. But yes, now I am.

F - What are your best and worst memory of your Symphonica tour?
S - Best memory is a hard one to pick. Maybe exploring the arena in Verona, before the show started. It really is a spectacular place.
My worst memory is probably my first overnight trip on the bus, when I couldn't sleep.

F - You met many fans, what dit they have in common?
S - They all shared a deep devotion to their favourite singer.

F - Did you meet the boss during the tour?
S - Nope, I didn't get to formally meet George.

F - How was the atmosphere between the orchestra, george's band and all the staff ?
S - Everyone was very professional and very friendly, even when things were busy.

F - Tell us a Lindsay's day during the Symphonica Tour
S - On non-show, I would spend a few hours in my hotel room, doing work like answering mails and uploading fan photos. Then, time and weather allowing, I would spend a few more hours exploring whatever town we were in.

Show days, which tend to also be travel days, usually would see me doing more work in the morning, before checking out of my room at the designated time. Often, we'd have a few hours to kill between checkout and when we had to depart for the venue so I'd fill that time with going for a walk, getting lunch, that sort of stuff.

Once at the venue, I'd take some pictures of it while exploring the venue and figuring out how I could move from front-of-the-house to backstage. But as soon as the musicians would get on stage, I would find a seat and listen to the soundcheck.

Dinner pretty much always followed soundcheck and then, depending on the venue, I would spend some time at the ticket pick-up window and see how things were going there. Then I'd pop back inside where I'd chat with fans and take pictures of them for Facebook.

During the show itself, I would be busy taking notes, taking photos and making the odd tweet. Assuming we were hitting the road after a show, I would use the intermission to select and edit the photos for that performance's post.

Post-show, I'd write up my blog post and send it and the photos off for approval. If we were travelling overnight, this would be done quite quickly, since backstage post-show is kind of hectic place. But if we were headed back to the hotel, I'd wait until I was back in my room to take care of the blog post.


7 - What will you miss the most?
I'm definitely missing catering and not having to make my own bed each morning. And I miss not seeing tons of new places.