MARIE LARMOUR * PALAIS GARNIER *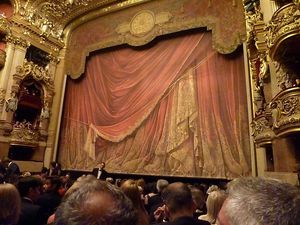 The Palais Garnier opened its elitist doors to George Michael and his Lovelies, embracing its first taste of the #Symphonica experience with a Gala Performance, followed by a black tie Gala Dinner on September 9th 2012. George was on the menu tonight in more ways than one, "STEAK TARTARE AU GARNIER" and there was not a vegetarian to be found! To quote one fan at the concert (as I always do!!!), "Atmosphere? The French ate him alive!!!!"
The Palais Garnier, historic home to the Phantom Of The Opera literally had its little tuxes rocked tonight by George Michael "Le Pop Star" in a historic event for the Aids Charity Sidiction. By the looks of things The Palais was going to remember it!!!
http://video.xin.msn.com/watch/video/george-michael-performs-at-aids-charity-concert/yq8y5oa0?from=sharepermalink-twitter%2cdest_en-sg&src=v5%3ashare%3atwitter%3a
The "Artist Direct had already coined the phrase, "POPERA" especially for tonight's performance, "Opera goes Pop". He is the first "Global Pop Star" to perform on its stage*. Well there was the other bad boy of pop but he didn't sing! He re-opened the Palais in 1996 with his opera Don Giovanni but as I said he wrote & played but didn't sing! Awww come on you must have "done" music classes in school!!! Mozart of course!! What other self-styled, irreverent, musical genius, would I be thinking about? He was a megastar in the 18th century, the darling of European elite, making all courtesans' and ladies knees go weak with his "Pop-ular, liberating, fun music and toured Europe performing for royalty in all THEE places!!! Sound familiar???
Paris was the Mecca of the GM world on Sunday, and fans were enroute, "What a beautiful day. On our way to Paris for an evening with @GeorgeMichael." The Palais was buzzing with excited tourists & Lovelies taking the tour of its exquisite interior. How does your "Twitter Oracle" know these things???? SIMPLES! There was another historic first for the Palais. For the first time also the Palais Garnier was #Twitterlive! The Dutch Twitter Team was in town (AGAIN) with pics flying in of our very posh venue. Amazingly there were tours of the Palais taking place on the day of the concert and our wee Emy very kindly bought us a ticket… "Best 9Euros ever. In the Palais Garnier and the orchestra is rehearsing!!!". That girl can get her lens anywhere!!! There were the most gorgeous jaw dropping pics of the place itself and behind the scenes pics of the production end. Real time tweets told us when;- the crew were testing the instruments, the orchestra were getting their "emergency exit instructions", a mysterious camera was set up to film the concert (???), @HenryHey was onstage and that they even sang Happy Birthday to Symphonica's guitarist, Phil Palmer! We were even treated to a video clip of the rehearsals and its set list run through!!! THEN was @Dutchieemy's Piece de Resistance…. "George Michael is sounding great!" Our wee Bev was there too, from @GeorgeMOfficial. She posted a pic of the very ornate back entrance of the Palais and a sardonic tweet, "The plain side of the Opera House-Bev".
Are you ready for "Le Grande Tour" of the Paris Opera House all you "Poor"unfortunates left out in the cold??? Then allez vites mes amies! Before we've finished I'll have you all cultured, reading French & give you the feel for the Palais Garnier without The Phantom getting a feel of you! You Will Go To The Ball and meet Son Altesse! (His Nibs). Doubt me not!!! Oh very funny Fred @GeorgeMichaelNews, I know most of your followers already read French and where AT the concert. Give me a break! The rest of us unwashed were not! Fermez le wee keyboard for a minute there honey, mercy buckets, (Irishspeak for thank you very much)! See! The French lessons have started already!! Right then Lovelies, STRIKE THE POSE… 'cos the culture bit's about to begin…….
Charles Garnier's Palais is truly that, a palatial feast for the eyes. The Palais Garnier or Opera De Paris is arguably the most famous and most lavish in Europe. Its Romanesque architecture, with which Garnier was heavily influenced, hits you with its wow factor from your first view, as you approach its multi-arched façade, (front to you and me, ssshh I'm showing off here!) and through its imposing doors, into its magestic foyer (front hall…DOH!). Classical friezes of Greek Gods and bronze busts of many great musical artists like Beethoven, Haydan and Mozart, greet all there. (So when's our George posing for his bronze bust?) ....Ok ok, some of you Lovelies are never satisfied, posing for his Greek God, classical frieze then!! Why you lot would want his sticky out bits sculpted & shoved onto the top of a wall I'll never know!!!! (Looking as naive and as classically trained as I can!!!) Pride of place in its magnificent foyer was the grandiose, sweeping, sinuous, marble staircase. It entices your eyes upwards to gaze on the architectural flourishes that adorn its ornate ceilings.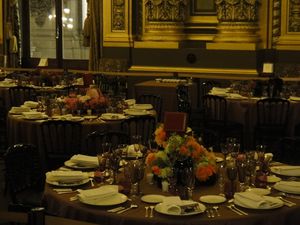 The circular tables were already being set out in the afternoon for the after gala, three course dinner. Fresh floral adornments of reds, yellow, gold, orange and green were the centrepieces. Tinted crystal glassware blended tastefully with the chocolate brown plain tablecloths and contrasted vividly its plain white chinaware. These simple, muted, table settings were at variance with their surroundings. This was the grand hall emblazoned with gilded Corinthian pillars and 17thcentury Roccoco styled ceiling artworks. Everywhere was golden. It was as if the sun had been captured and held in this room. Golden curtains blended into its golden walls and ceilings, full of stucco architectural works of art. The term "embellishments" does not do them justice. All this gold, reminiscent of the luxurious French palaces of Louis XIVth (The Sun King), irradiated the incandescent light from its many electrified golden candelabras, suspended from the ceiling. It looked royally magnificent.
In the Auditorium things were no different, there was an awful lot packed into it (even before the audience got in!!!). It was small and intimate by modern standards with a seating capacity of only 2024. Its sumptuous Baroque styled, Indigo Jones, Jacobean type theatre ( Horseshoe Shape ), is crowned by a 7 tonne, breath taking, gold and crystal chandelier which lit the auditorium throughout the show. This drew the remark on stage from George Michael that it was strange to see a lot of the press as he performed. This enormous pendant of crystallized light was suspended from a concaved, domed ceiling vividly painted by Chagall in blues yellows greens & reds and outlined in golden circular architraves, studded with more lights. Truly, an awe inspiring venue.
Many of the French celebrity elite attended including Sidaction's President, Pierre Berge, industrialist and former partner of the late Yves Saint Laurent; Jean-Paul Gaultier, world renowned Designer, Actresses, Delores Chaplin (Charlie's granddaughter), Arielle Domnassle, Berenice Bejo & Berenice Marlohe, Singers & Models, Amel Bent & Baptiste Giabiconi, Lou Doillon, Nolwenn Leroy, Marc Lavone and Juliette Greco. Nicos Aliagas, one of France's top TV and Radio presenters was also there. He tweeted;- #Paris now @GeorgeMichael now singing on stage with a Symphonic orchestra Absolute Class. The Best". He presents The Voice and Star Academy among others and interviewed George prior the show on Europe1, France's top radio station. Baptiste Giabicioni and Amel Bent also posted pics from the concert. Non more obvious of the celebrities there, was Sidaction's Vice President and event organiser, Line Renaud, a life long singer and actress in her own right. She along with her friend Elizabeth Taylor were among the first A List celebrities to mobilise the European and American celebrity worlds into action against Aids, long before it was mainstream. She has praised George in the past "as having always promoted sex without risks."
"Pluie de Stars a l'Opera Garnier", as always, No pressure then, Your Royal Nibs!!!!
"Well me, not exactly operatic. In fact, I am told that mine will be the first non-classically trained voice to sing on that prestigious stage. Not sure I believe that but it's a nice thought, if a bit terrifying". @Markmclean tweeted, Looking forward to playing the opera Garnier tonight." @Henryhey posted a backstage pic of himself, @markmclean, @benbutlernye and Cave Finck. Ed Barker the Symphonica Saxophonist for England and Australia leg of the tour tweeted, "@henryhey @benbutlernyc @themarkmclean great work guys! Greetings from LA. Heard concerts are going brilliantly-keep up the good work. Safe travels." Whilst on tour with His Nibs, we've had the Prague Opera House, the Royal Albert Hall, we've had the Royal Opera House Covent Garden, so are we ready for a "Night On The Tiles
Paris Opera style??? …Oh Excuzez me…. "Une nuit d'une luxe sur des carreaux"!!! Me's the bestest wee Travel Mate you a can have!!!
Posh frocks and Tuxeudoes at the ready, we have a night of Haute Cuisine and Haute Couture in store. "Opera Garnier George Michael's concert for #Sidaction #j'adore #fashion #chagal #glam #manifyk #iloveparis# ." Although in my case it's more Fashion-wish-ta than "Fashionista"! "Have you got your pretty dress, sm-(r)ocking; don't forget the dress code ;0 " I on the other hand refuse to get my one and only posh frock out of the mothballs after my last disaster at the Royal Opera House in London. Wee Leo's not here anymore to "NOT" escort me to this French ball! He's left Marshall Arts to start his training for the next Olympics! It's no longer @Leosmusic it's now @MarshallArts. Good luck wee Leo. If you need an adrenalin rush for that all important finish…. Just think of this mad Irish woman after you in her posh frock 'cos you stood her up in London!!!! Now that's Motivation Honey!! (Wee Joke). I will miss defaming him… he was my ideal man sigh!!.... He never sued!!! Hope wee Marshall is as accommodating!!!
According to Adaforshort blogspot.com, the Palais Garnier Café, where some of the Lovelies were meeting up, apparently was a tough room to impress and expensive! An unfortunate couple had come to the theatre slumming it, in their "Civvies" blissfully unaware of the posh frock warning (Black tie event!). Announcing their get out clause of, "but we've been to 22 George Michael's concerts already, they were shocked to find out that some of those there had been to nearly 20 Symphonica's never mind any other of his concerts!! This is the Olympic games of concert goers, with an impressive array of notches on the George Michael Tour bed!!! Even if they had to impersonate bag ladies to get there!! "In the Metro to the opera house. Getting a bit excited now. I carry my dress in a bag so I can change into it later, much too hot now :0".
The formal Black Tie evening wear, extremely warm weather and a capacity filled auditorium did nothing to alleviate the sticky atmosphere or the complaints of this modern audience; that the seats were uncomfortable and it was stifling hot, even before George came on stage! "When I get back to my hotel again I'm gonna take a long shower; the heat is killing me. If it weren't for George I'd stay indoors." How hot was the stage then??? Behave you lot, I'm being serious! There were all those savagely hot stage lights, the massive heat emitting Symphonica screen, all of the body heat from the classical Czech swingers and his musicians and singers!!! Its testament to his professionalism, stamina and dedication to his fans that our George was able to perform and sing for two and half hours in these blistering conditions! Watching him, it's hard to remember, that only months ago, he was fighting for his life. The ICU cocktail of drugs are not even fully out of his system yet!!! Indeed such is the demand for His Nibs, that 400 of this sell out Palais auditorium's seats were "restricted view". Still, you were lucky to get away with €400! "The place was small, lights stayed on, we had restricted view but saw it all. What an experience. Great crowd! #Opera."
The Palais' four tiered, ornately pillared balconies and balcony boxes were resplendent in gold leaf, replete with cherubs, nymphs and red velvet. They unbelievably withstood the excitement of the happy fans that filled them and spilled out of them! A short crowd excerpt was posted by Nikos Aliagas,
http://www.youtube.com/watch?v=3FsbL6VRQBE&feature=related
"Balconies standing clapping as George Michael travels across the stage to them. Others were almost hanging, precariously over the side, trying to video him as he serenaded underneath them! "There's one person who is hanging over the balcony, that enthusiast!!! :0…" And believe it or not the Lovelies withstood the bruises on their knees and backs. NO LEG ROOM! Next time remember…. Bijou Theatre ….equals bruised kneecaps and holes in backs!
"#Symphonica and in my seat and very uncomfortable, it's hot very high up and extremely cramped. It better be fabulous LOL". "All the way up in the nosebleed section". It's very hot in the Palais Garnier and we're not even talking about George Michael :0 #Symphonica". "Amazing atmosphere, the place was rocking from the start. Was high up, but George's smile was so big I could clearly see it LOL". @GeorgeMichaelNL, the spearhead of the Dutch Twitter Team tweeted, "We can't really tell when it's about to start, there is no curtain tonight, but sort of a screen/plate with a curtain drawn on it!" "Welcome to #Twitterlive by the way! :0 Internet is here on and off so we'll try and do our best to bring you the show updates! Via @Dutchieemy".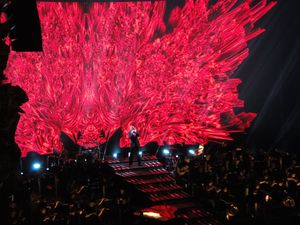 "And it's starting". "Through". "Clapping along…". "Flawless performance". "Audience really enjoys it!" Enjoys it?? George got a standing ovation already!!! He wore an exquisite black dinner jacket with black silk/satin lapels and shirt open at the neck without a tie, displaying the silver cross he wore at his Vienna concerts. "George is looking mighty fine with his black on black look". This concert followed the same set list as Vienna. "My Baby Just Cares For Me" and the Palais Opera house takes off, "it was a riot". "Bonsoir Paris, ca va?" Father Figure was next and he let the crowd have the last word in the song. "The lights are staying on so George has a good view of the audience…right to the back and way up! #Symphonica". "Cowboys And Angels… George's voice sounds a little warmer than last week to stay on the subject :0 (of the heat)".
Have any of you noticed anything??? We haven't heard a tweet out of our wee Bev since she was last spotted at the back door!!!! Don't panic she wasn't left stranded outside, she got into the Palais Garnier alright but couldn't get a signal to tweet out!!!! "…Zero internet signal….-Bev". "If you are missing @GeorgeMOfficial/Bev, we think she may have difficulties with internet, it's very poorly in the Palais Garnier". Poor Bev! But the rest of the George Michael Twitter community rallied round retweeting @GeorgeMichaelNL's realtime auditorium updates and adding any tweets available from Lovelies at the concert. Caring and sharing really does sum up this Twitter community who shared the tireless @GeorgeMichael concert tweets online through @GeorgeMichaelNews, @SymphonicaTour and @GMFamilyForums.
"Who wants to see a snippet of Cowboys And Angels by Dutchieemy #Symphonica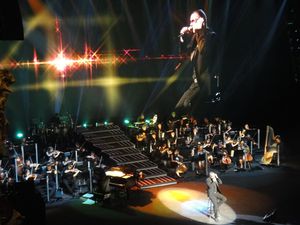 #Operadeparis. "The chandelier which you see in the Cowboys & Angels snippet is staying on which is really cool in the middle of the auditorium". Then she later posted the full song, http://www.youtube.com/watch?v=2xAQHFUzqfE which can also be seen on @GeorgeMichaelNews's blog site and @GeorgeMichaelNL. "Kissing A Fool…. the audience is very enthusiastic so far @GeorgeMichael's #Symphonica Concert at the Palais Garnier". "Going To A Town…Let Her Down Easy….You Have Been Loved…'This song was written for my Mother and Anselmo". "George Michael again sounds wonderful maybe even slightly better than the last week, but he doesn't say much to nothing." "Everyone is up and dancing during Wild is the Wind and George is dancing the night away….Which in turn the audience loves #Symphonica". http://www.youtube.com/watch?v=MQQ9ad7zyqY Via the cheeky TheCMA obviously enjoying himself!! "Up and dancing before the end of the first half." "Brother Can You Spare A Dime… And that's the end of the first set, we have arrived at the interval! #Symphonica". http://www.youtube.com/watch?v=o8DKpkK-FyQ&list=UUqgX8BsXbJt6vB56Ns_KVxg Via Dutchieemy.
"#Symphonica Break, pa Raise be. I can finally breathe again. Show is very good though and crowd just amazing". "This crowd is so into it, the best audience by far of the three shows! Had not expected that LOL" Praise indeed from an experienced Dutch Twitter team member. "Anyhoo, we're on intermission now, so I can tweet from outside (the auditorium), the crowd has stood and danced at every opportunity. #Symphonica-Bev".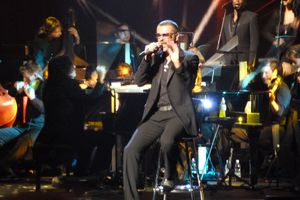 "And we have started again…..Waiting For That Day #Symphonica". "Audience is lifting the roof off during Waiting For That Day, George is going to his right and people in the balconies are standing….to clap and cheer…then he is going to his left and people on the other balconies all rise up and cheer and sing along passionately." Patience now…. John And Elvis Are Dead". "Just ran out (from the auditorium during the second half) to say follow @GeorgeMichaelNL for concert tweets. They have signal and are fab!-Bev #Symphonica". Our wee Bev was being thoughtful as usual and always working!!! Much like the Dutch Twitter Team and @GeorgeMichaelNL. I hope that this last tweet from her meant that she was getting to watch the concert in relative peace for a change!
"Roxanne by a wonderful gentleman called Sting, from 1979" introduced the next cover by His Nibs on stage. "True Faith with quite a bit of vocoder #Symphonica". "@GeorgeMichael is sitting on his chair singing A Different Corner as if it comes out of his toes, really amazing….Audience was listening breathlessly…to the instrumental part… we are expecting a lot of applause in a minute….And yes there, it is a very well deserved huge applause and shouting for a brilliant version of A Different Corner!!" "You've Changed…" "By the way there's an orchestra pit in between George Michael and the audience….so anyone trying to rush to the front…good luck :0". "George said, 'I wanna see those hands' so everyone is clapping during Russian Roulette". "Un grand moment". "Praying For Time….All the audience is waving their arms from the left to right and back :0" http://www.youtube.com/watch?v=-lHuO8T3YA4&NR=1&feature=endscreen Via fangm0506
" 'Are you feeling good Paris?'!! -Feeling Good". "George is working it! Really loosening up during Felling Good". " 'Here's the Meey-del-ey' said George and he swung into Amazing/I'm Your Man/Freedom '90" "Dutchieemy is enjoying the @GeorgeMichael/@GMSingers sandwich #justsaying #itwashot" Shirley Lewis and Lucy Jules during the dance medley were making their GM sandwich and Shirley was practicing her exquisite, Braille reading skills all over His Nibs' rear AGAIN!!! http://www.youtube.com/watch?v=5T7WPQ8Fm6Avia fangm0506 These ladies continue to be the envy of many a Lovely as their hands are never on their own hips!
Everyone's hands were in the air and "The entire Opera is going crazy" "Voice still steller. He's just awesome! "The ambience superb". This was the familiar crazy George Michael party that everyone had come to expect in the 2011 Symphonica Tour before he was struck down in November. "George is back!!!". "'Thank you , good night guys' and George leaves the stage at the side (instead of the back) #Symphonica". "The entire opera is crazy". "Next up is….Still in the set list…. White Light!" "George Michael almost tripped over the autocue when walking back". I think the party atmosphere had gotten to him as well! And with the last chords of White Light he sunk to his knees. bit.ly/QHwabN
After this came the words that fans all love and hate at the same time….
"Thank you you've been fantastic"…But then there was a lovely little kicker….
"See you next tour!"
"Triomphe Pour George Michael ce soir a l'opera." "Thank you so much for this amazing show . I'm so proud to be a lovely…." "Concert magique de George Michael a l'opera Garnier de paris!" "George Michael fait swinguer I'opera".
See told you I'd have you all reading French before we finished!!!
George Michael's #Symphonica concert was followed by an invited Celebrity meet & greet of 250 with George in "du Grand Foyer". At the fundraising dinner in its lavish hall, George sat at Jean-Paul Gaultier's table with his partner Fadi Fawaz. He looked relaxed and as if he was enjoying himself in photos. To attend the Gala performance and dinner, set you back €13,000. One fan who did this, Fabian uploaded some lovely photos of himself with George Michael and other guests at the après gala dinner onto the website of @GeorgeMichaelNews. http://george-michael-news.over-blog.com/10-index.html You can see these and view other fans experiences and concert videos on a collage specially put together of the Palais Garnier night. On Page 2 of the fan page, scroll down to Palais Garnier for some beautiful pics of the after dinner gala and George Michael. This next link has some more videos of the Palais concert, http://0z.fr/uJBMc from the GeorgeMichalNews site, scroll down to reach them. After dinner speeches followed where Line Renaud and George where snapped, tenderly sharing a glance and then it was onto an auction. The auction raised €68,000. Dinner for 6 at George Michaels home raised €31,000 and went to the head of Celieo, a large chain of French, high street fashion at affordable prices. Dinner for 8 in Line Renaud's home raised €20,000. The total for the night came to €290,000.
The French press are still in love with His Nibs. They all revelled in his amazing historic performance in the Palais Garnier with "its electrifying atmosphere…the audience danced in a theatre accustomed to ballet and classical music". He and Kate Moss have made the cover of VOGUE and LE Figaro was in raptures over his master craftsmanship and intelligent orchestration. His voice with subtle inflection and conviction, "Swigue a l'opera" with "Du grand Art".
* NO star of popular music before George Michael's original gala date, 29th April 2011 had ever performed at the Palais Garnier. This had to be postponed due to his recent illness, and was rebooked by French singer/songwriter Julien Clerc who sings his own compositions and those of late great French singers like Charles Aznavour & Edith Piaf, among others. On this occasion he was accompanied by an orchestra.
My thanks as always goes to @GeorgeMichael, @GeorgeMOfficial, @GMSingers, @Henryhey, @markmclean, @benbutlernye, @Edthejazzman, @Marshallarts,
@GeorgeMichaelNL, @GeorgeMichaelNews, @SymphonicaTour, @FamilyForums, @Dutchieemy, @Dutch_ada2, @Happys74, @MissHoefje
@JPGaultier, @B_Giabiconi, @Nikosofficiel, @amel_bent, @FannyWalters, @sidaction, @danielfwaz, @StephaneDebac, @AuroreBriere, @PouletteNela, @JFGuyot, @KristineGarina, @Poshscouse0825, @LnSusie, @Boursorama, @Marieyog, @GmLovelies, @isabellebokobza, @FredMailliet, @MaxGuazzini, @fati_mabelle,@NewCaledonia81, @FredMayfield, @cristinacordula, @starpeoplegm, @outsideGM, @labelbarclay, @Cleoesteban, @mipzan, @brieu75, @DavidBauchet, @RafchkaloveYOG, @jaskalra99, @hcharbonneau, @chantalvdkant, @LeNouvel0bs, @CM_Hamiltin,
Line Renaud-Le Blog de Caro et Jere, Line Renaud official website, George Michael News Blog, Adaforshortblogspot.com,
Le Figaro, Vogue, People-Match ParisMatch.com., Gala.fr, Associated Press, e-llico.com, Independent.ie, BlueRidgeNow.com, Artist Direct, Euro News Le Mag, Le nouveau Paris Ile-de-France, Actu-People, Obsession Le Culture du style, Aujourd'hui en France, Euro 1 Radio Station.