EXCLUSIVE INTERVIEW * PEPSI & SHIRLIE *
A huge thank you to Pepsi & Shirlie for this exclusive interview xx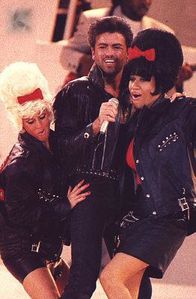 Frédérique -You were the half of Wham! What is your best and your worst memory of this era?
Shirlie - My best memory is doing Whams first TV show Saturday Morning Superstore!My worst, are the clothes that we wore for the Wake Me Up video, sack the stylist!
Pepsi - I think it was a great era to be part of the music industry, anything was possible it was an exciting time. I don't have a worst memory. When I look at the 80's from where I am now it was lot's of fun and full of possibilities.
F - The 28th June of 1986: Tell us something we don't know about this terrible date for the Wham's fans.
S - It was a very hot day and everyone was in a really fun mood and lots of silly things were going on back stage, people were wearing other clothes and Pepsi and came out in some huge wigs, I remember George's face laughing so much, it was never a sad day but a day of fun and laughter and a feeling of a new start, a new era for all us, a feeling of growing up and not apart!
Pepsi - This was the Wham Final right? Sorry that it was such a terrible date for the fan's but it was the beginning of Pepsi and Shirlie and the start of George Michael as you know him so it's not all bad. The Wham Final was such a great moment for everyone, the band and the audience. I also remember it being a really great UK Summers day, we even had a paddling pool back stage!
F - In 1987, the single "Heartache" lunches your solo careers (from the album All Right Now). Did the doors open easily for you?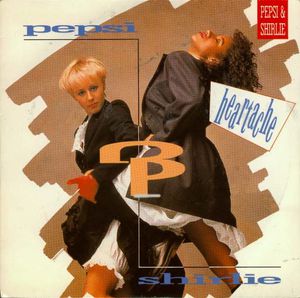 S - Yes, I feel they did, we were very confident and just focused on what we wanted!
P -Just before we came to the end of the last tour we were approached by a management/production company and they were keen for us to become a band (Pepsi & Shirlie). I had to be persuaded because I wasn't sure if anyone would be interested in us. However Shirlie always felt it would work but then I heard Heartache and then I knew we would have hit with that song and thought why not
F- What did it feel to be in front of the stage and alone this time?
S -Great, shame GM & Andrew weren't doing the backing vocals!
P - It felt good! We had got our training from being on stage with Wham so we felt quite relaxed about it
F- In 1991, George Michael writes "Someday" for you. After this single, you left the musical scene. Why?, did your personal life become much more important or difficult to handle?
S- My personal life was and still is very important to me, I had a baby girl and she and Martin were all that I needed, I was tired of all the travelling away from home and just wanted to stay still and create a loving home!
P - Shirlie and I had decided very early on in our Pepsi and Shirlie career that if at any time we didn't want to do it any more we had to tell each other first. Shirlie wanted to start a family and to be honest I knew I had to find another career and I know nothing ever lasts forever. So it gave me the push I needed to pursue another passion of mine which was acting and musical theatre and that is when I went onto do Hair at the Old Vic in London and playing the part of Josephine Baker which toured the UK and Shirlie went onto having her wonderful family.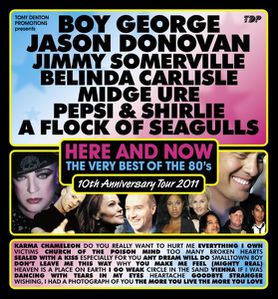 F- This is the 10th anniversary of this tour: you're part of it; how does it happens and did you hesitate before saying "yes"?
S - Yes, I had to think about it, did I really want to do this again, I wasn't sure but as soon as I got on stage, I remembered what fun it was and loved it!
P - Tony Denton the producer of the Here and now shows had asked us many times before and we had said no but we thought why not do it now! We said to each other why don't we have some fun with this, we have nothing holding us back lets go for it and we did and I'm glad we did.
F- Can you describe your first feelings on the first date you did on the here and now tour .
S - Excited, shy, anxious..... but I was lucky because my daughter Harley was with us doing backing vocals and Pepsi & I know each other so well, I realised All is Well!
P - The first date was in Birmingham and I remember us being in the dressing with about a half an hour before we were due to go on and I was nervous not knowing what the response would be but the audience was amazing they were singing along with us it was fantastic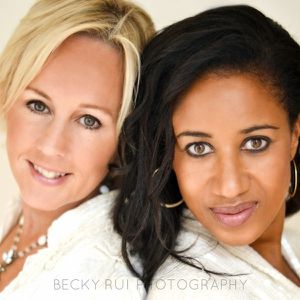 F- Can this be a part of a future comeback?
S - Yes, we will do more shows and will keep you posted, our next show is Butlins, Minehead 5th November 2011
P - well we have been asked to do more show and this time we said Yes! So you will be seeing us on stage again.
F - What was the life of Pepsi and Shirlie before the Here and Now Tour?
S - I have been very busy, I love photography and I have been designing lots of lovely things for the home, I am hoping to one day have a lovely book of my photo's and a range of bedding and house wares!
P - my life has been and I hope will continue to be amazing. I have travelled the world, lived in amazing places like New Zealand and I now live in St Lucia. I still enjoy making music and being creative I have always enjoyed discovering new ideas and adventures ....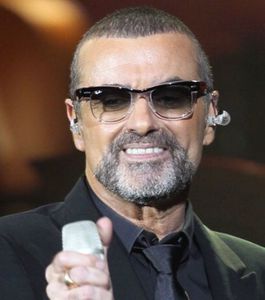 F-What do you think of George's new tour to come: SYMPHONICA – The orchestral Tour – who will have 61 dates all over Europe?
S - I loved it when I heard is touring again, he is incredible live and I am so proud when I watch him sing and I look at the audience who love him too!
P- I think it's going to be amazing!
F - Are you surprised by this new idea?
S - No he has wanted to do something big like this for a long time!
P - I think it's important as an artist to find new ways of expressing yourself and not be confined to one way of being, thinking and performing. It keeps your art very interesting and it keeps your fan's interested in what you are doing as well. I think his fans are in for a treat.
F- You know George Michael since a long time now. He seems so much near to his fans now, maybe thanks to Twitter ?
S - Yes Twitter is the best thing for someone in George's position, the fact he can give his fans direct messages and not have to do it through a journalist or third party is great for him, he can stand up for himself when he needs to but you also get to see that he is funny & quick witted too.
P - That's the beauty of Twitter!
F - Do you know his feelings about this special relation with these so loyal fans? (Lovelies as he call them)
S - He really appreciates his loyal fans and is very grateful for them all standing by him no matter what the press have said about him....but at the end of the day, his talent is so everlasting, I am sure he will always have life long lovelies!
P - I think George really appreciates the support of his fans and you Lovelies have stuck by him through thick and thin ... good on you!
F - Just three words to describe George?
S - Funny, compassionate, gifted!
P - Generous, sensitive and opinionated
F - What is your George's favorite song ?
S - ahh this is hard, as it depends on where I am and what mood I'm in, I have always loved praying for time because of the lyrics but i loved his version of I can't make you love me, not fair too many songs to choose here!

P - Wow there are so many ... Everything she wants, Cowboys and Angels, Outside, Too Funky, Spinning the wheel, Father Figure and the list goes on ....